Foundational Chronology of the Cambridge Colleges
The history of the Cambridge Colleges dates back to
1284 with the founding of the first college – Peterhouse by the Bishop of Ely; Hugo de Balsh.
This was followed by the foundation of King's Hall in 1317 by King Edward II, under the guidance of John Hotham, Bishop of Ely.
Michaelhouse was founded in 1324 by Hervey de Stanton, Chancellor of the Exchequer to Edward II.
Clare College followed in 1326, originally as University hall. It was re-founded in 1338 as Clare Hall thanks to an endowment from Elizabeth de Clare.
Next up was Pembroke, founded in 1347 by Marie de St Pol, Countess of Pembroke.
Gonville and Caius followed closely after, founded as Gonville Hall by Edmund Gonville in 1348 and some years later, when it had fallen into disrepair, re-founded as Gonville and Caius College by John Caius in 1557. The college is often referred to simply as Caius College.
Trinity Hall came next, founded in 1350 by William Bateman, Bishop of Norwich.
Corpus Christi College followed in 1352, founded by the Guilds of Corpus Christi and the Blessed Virgin Mary after the black death in 1352, it's notable as the only college in Cambridge to be founded by the townspeople.
Moving into the next century, Magdalene was founded in 1428 by John Lytlington, Abbot of Crowland as a Benedictine hostel. Over time it became known as Buckingham College before being re-founded by Thomas Audley, 1st Baron Audley of Walden in 1542 as the College of St. Mary Magdalene.
Christ's College was originally founded in 1437 by William Byngham, known originally as God's House. It was re-founded in 1505 by Lady Margaret Beaufort and, at this point, was renamed Christ's College.
In 1441, King's College was founded by the most unpopular Henry VI.
This was followed in 1448 by the foundation of Queens' College by Margaret Anjou, wife of Henry VI. It was re-founded in 1465 by Elizabeth Woodville, wife of Edward IV. This pluralisation explains the orthography of the apostrophes in Queens'.
St. Catharine's College was founded in 1478 by Robert Woodlark, Provost of King's College. Known then as Katharine Hall, it adopted the name St. Catharine's in 1860 and is known locally as 'Catz'.
Jesus College was founded in 1496 by John Alcock who was then Bishop of Ely.
Next up came St. John's College. Founded in 1511 by Lady Margaret Beaufort, mother of King Henry VII (even though she died in 1509).
Trinity College was formed in 1546 by Henry VIII by merging two existing colleges – King's Hall and Michaelhouse – along with seven hostels (Physwick – formerly part of Gonville Hall, Gregory's, Ovyng's, Catherine's, Garratt, Margaret and Tyler's).
Emmanuel College was next, founded in 1584 and was the last of the 16 'old colleges' to be established.
Homerton College was founded in 1768 in London. The college moved to Cambridge in 1894. It did not gain full college status until 2010 when it received its royal charter, making it the 'newest' Cambridge college (but not the youngest).
Downing College was established in 1800. It is known as both the 'oldest of the new' and the 'newest of the old' colleges in Cambridge
In 1869, the first women's college, Girton College, was founded. Initially founded as the College for Women at Benslow House, in Hitchin, the college relocated to Cambridge in 1873 and was granted full university college status in 1948.
Also founded in 1869, Fitwilliam House, a college intended to provide less wealthy students an opportunity to study at Cambridge. This became Fitzwilliam College in 1966.
The second women's college, Newnham College, was founded in 1871. It is now the oldest surviving all female college.
The (now defunct) Cavendish College was founded in 1873. It proved unsuccessful and the college buildings became the site for Homerton College when it relocated to Cambridge.
In 1882 Selwyn College was established in memory of George Augustus Selwyn, the first Bishop of New Zealand.
Hughes Hall, the oldest Cambridge college to only admit mature students (21 and over) was founded next in 1885.
In 1896, St Edmund's college, another mature student only college was founded. It was founded by the 15th Duke of Norfolk,

Henry Fitzalan-Howard.

There was then another big gap of over 50 years, punctuated by WWI and WWII, before Murry Edwards College was founded in 1954. At the time it was aptly, if unimaginatively, named New Hall.
Shortly after, in 1958, Churchill College was founded by Sir Winston Churchill. It was granted full college status in 1966.
Darwin College, one of a number of post-grad only colleges at Cambridge University, was founded in 1964. It was established by three other Cambridge Colleges.
A year later, in 1965 another (mostly) post-grad college, Wolfson, was established. It was initially name University College and established by the University itself.
Also in 1965, another college was established. Lucy Cavendish was formed as an all female college, for mature students (21 and over).
A year later, in 1966, Clare Hall was established by Clare College.
Finally, in 1977, the youngest Cambridge College, Robinson, was founded. The College was founded by British philanthropist David Robinson and opened in 1981 by HM The Queen.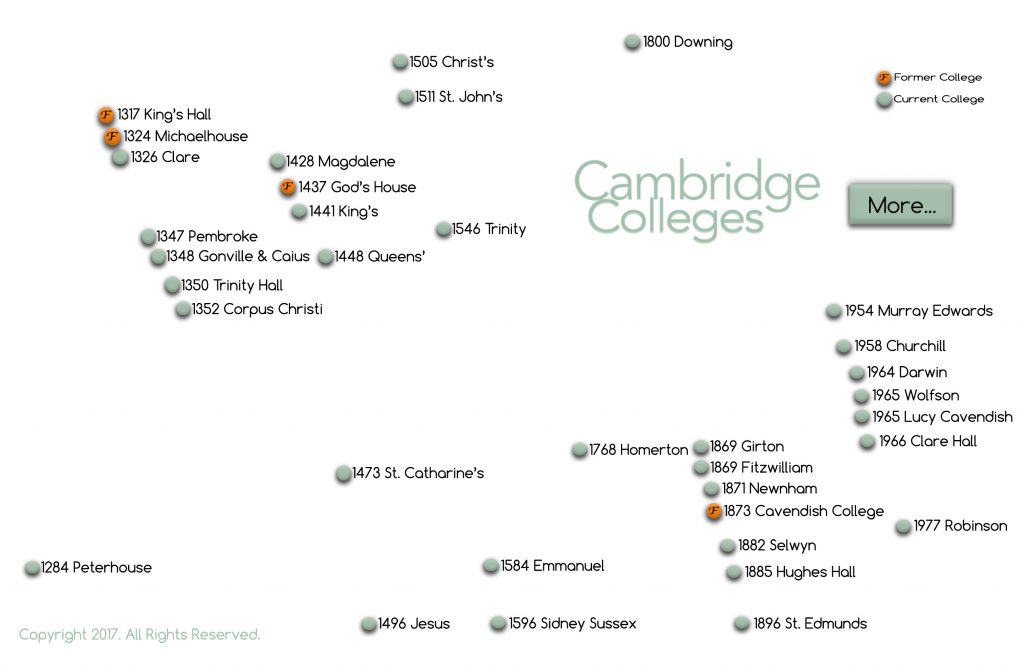 What next?
It has now been over 40 years since the establishment of the youngest Cambridge College. Another significant gap in the time line.
Although during that time Homerton was granted official college status (in 2010) and there have been a number of significant investments in the University itself.
A number of the colleges have expanded their accommodation and facilities to welcome more students but there seems to be no sign of the foundation of a new Cambridge College.
There have been suggestions and proposals put forward to create one or more new Cambridge Colleges and the University's North West Cambridge – Eddington site. However to date none of these have been given the green light.