Origins
Established in 1871 as a house in which young women could reside while attending lectures in Cambridge, Newnham College remains a women's constituent college and one of the most scenic sites amongst the Cambridge Colleges.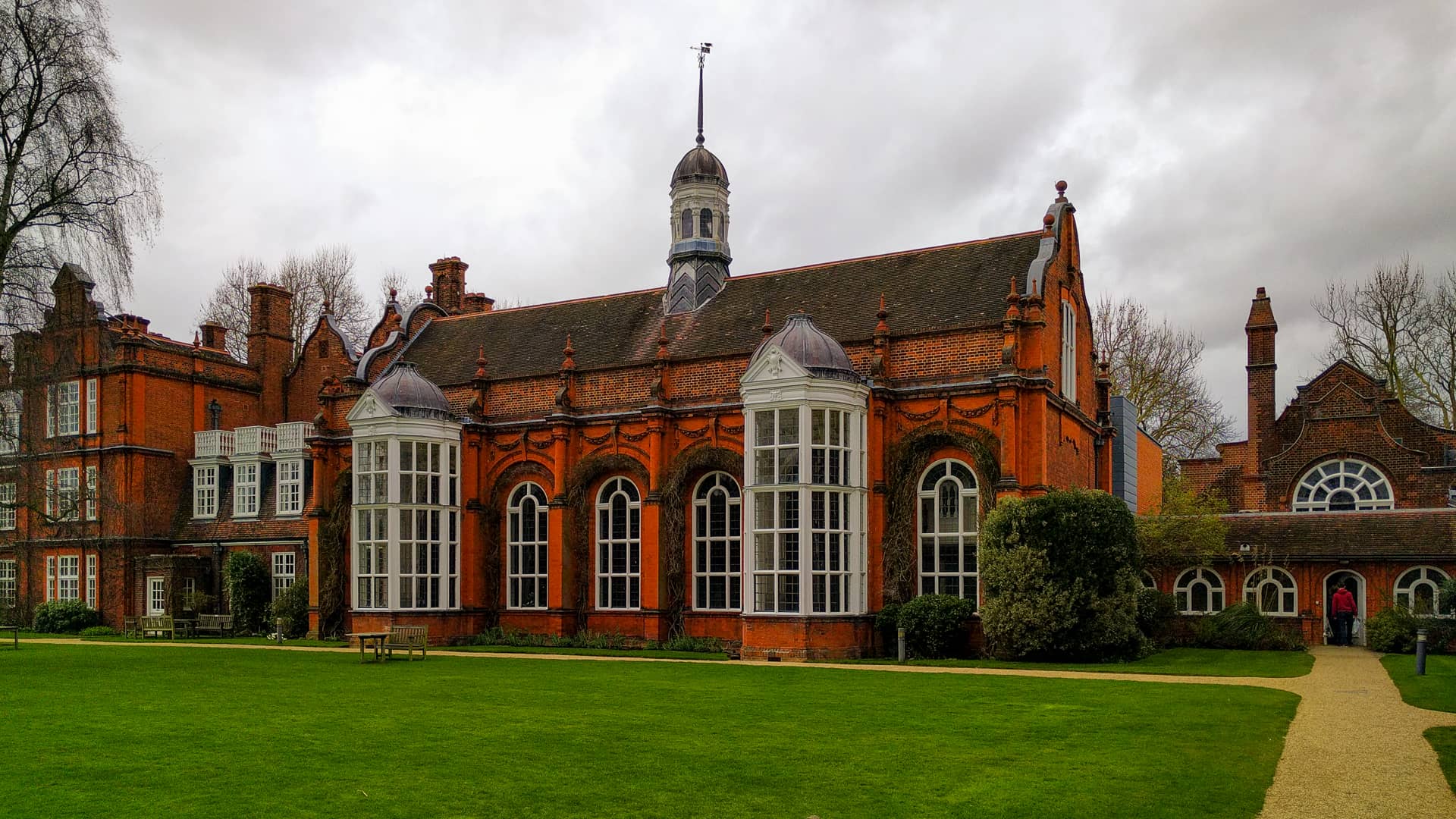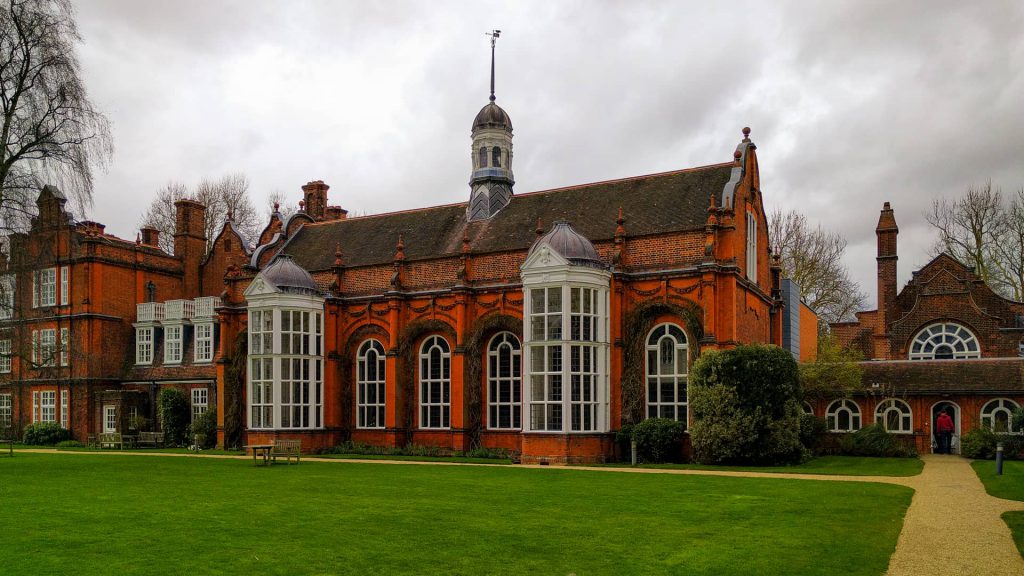 The history of Newnham began with a spark. The founders, many of whom argued that women were every bit as intelligent and capable as their male counterparts and, therefore, deserved a first-rate education, used steely determination to create the Cambridge college that exists today.
The progress of women at Cambridge owes much to the pioneering philosopher Henry Sidgwick who, in 1871, rented a building on Regent Street to house five female students who wished to attend lectures, but did not live near enough to the University to do so.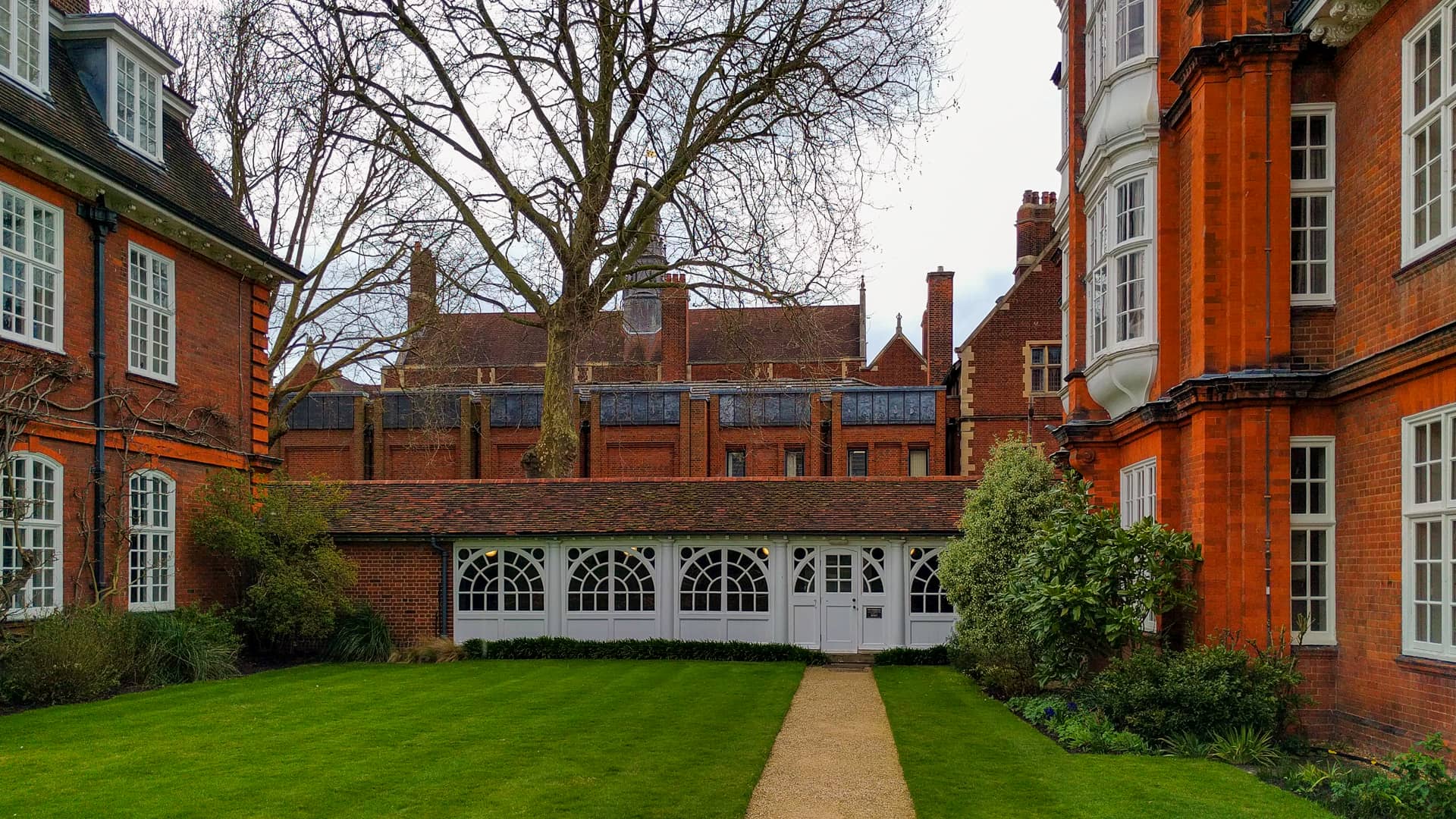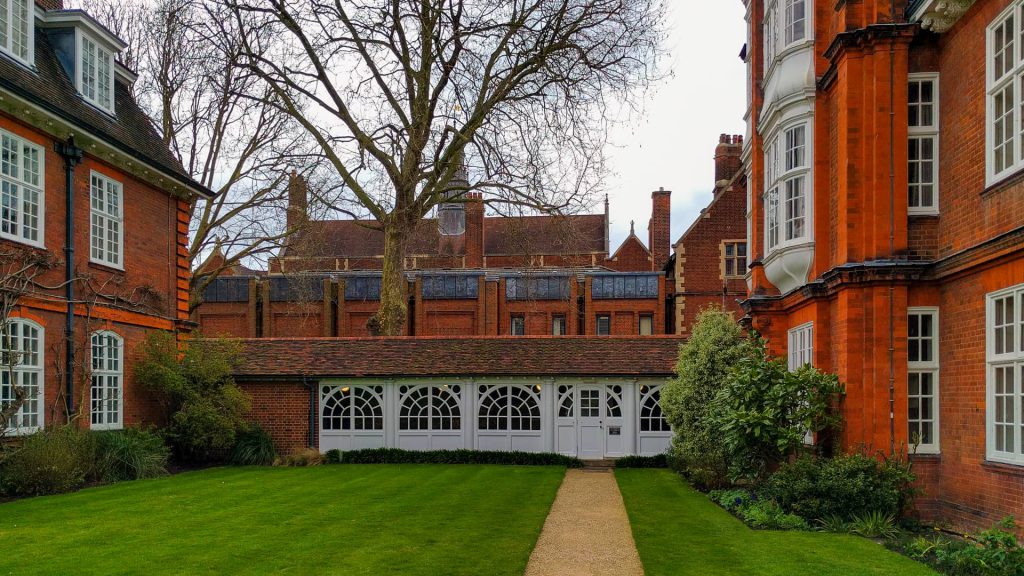 Newnham was not the first women's college at Cambridge. That honour goes to Girton College, which was established in 1869. However, it is now the oldest surviving women's college at Cambridge, as Girton has a mixed intake.
Newnham College formally came into existence in 1880 and, eventually attained the full status of University College in 1948.
This was the same year that women were allowed to become full University members and finally be awarded degrees from Cambridge.
Today, Newnham College continues to challenge stereotypes and limitations; the faculty prides itself on providing an educational haven at which the student body can realise and fulfil their full potential.
Newnham College location
Newnham College is situated just south of the bustling Cambridge city centre, mere minutes from the M11 that services London Heathrow, Stanstead and Gatwick.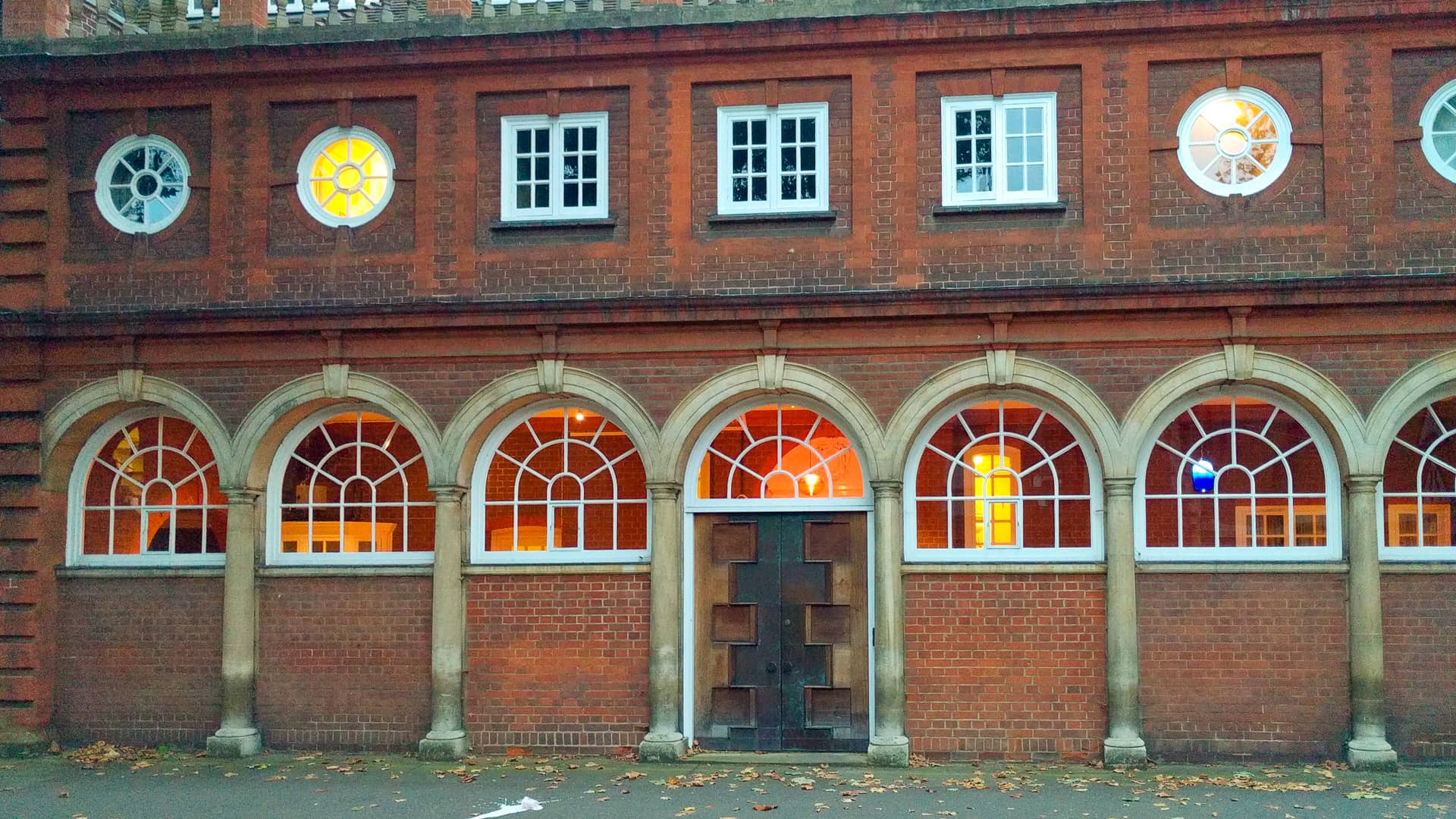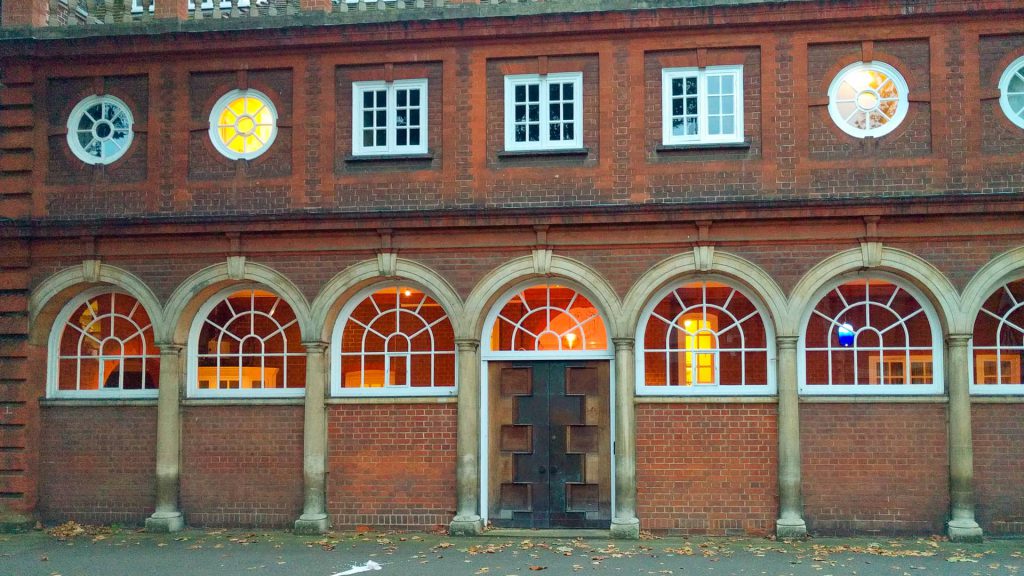 The main campus sits off of Sidgwick Avenue, just south of Grange Road––both of which provide entry access to vehicles, as well as multiple car parks.
Grounds and gardens
One of the best kept secrets in all of Cambridge, Newnham's grounds and gardens offer students and visitors a tranquil surrounding for both contemplative study and free time. Unlike many of Cambridge's colleges, Newnham's resplendent gardens are typically open to the public for much of the year.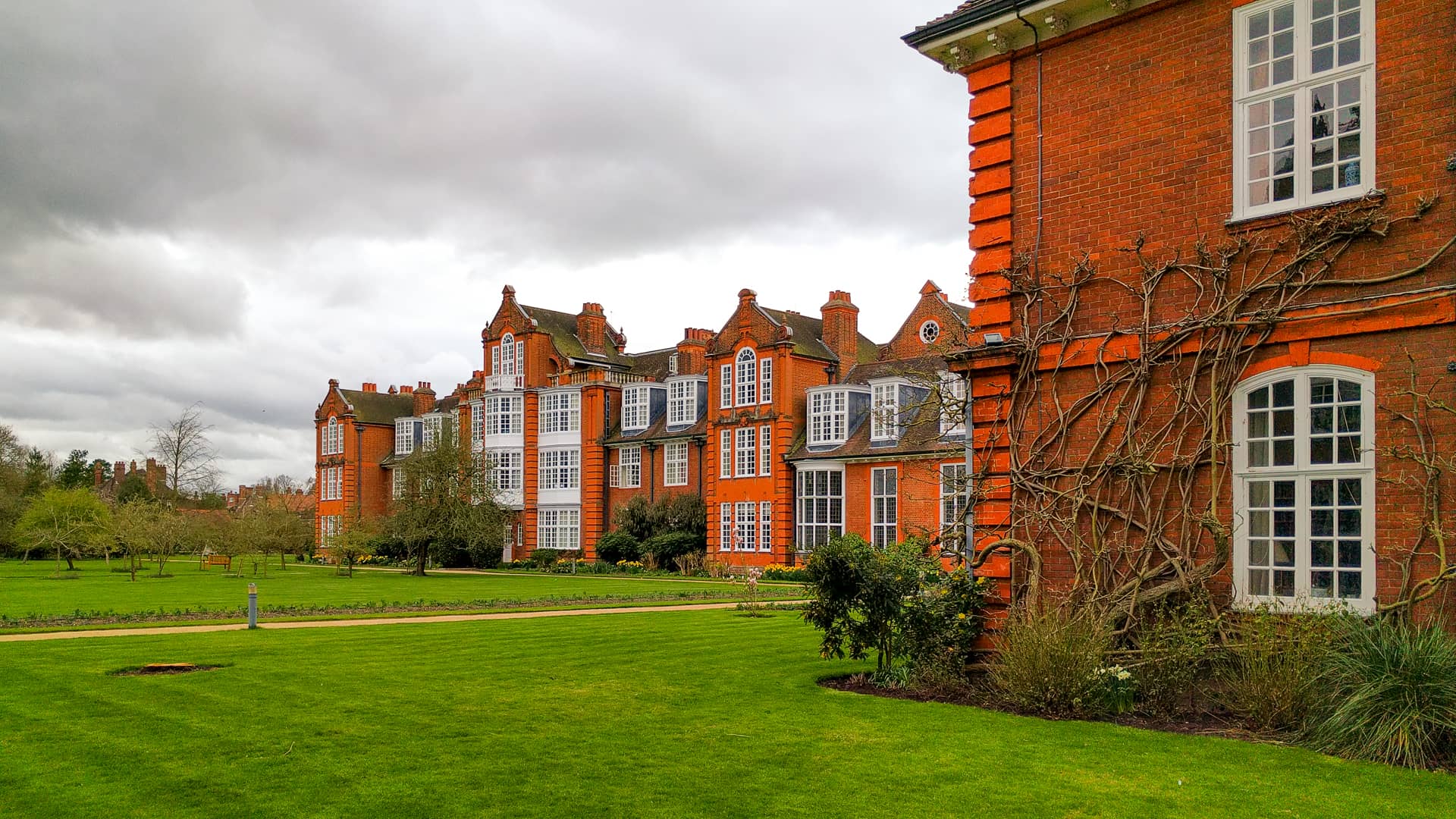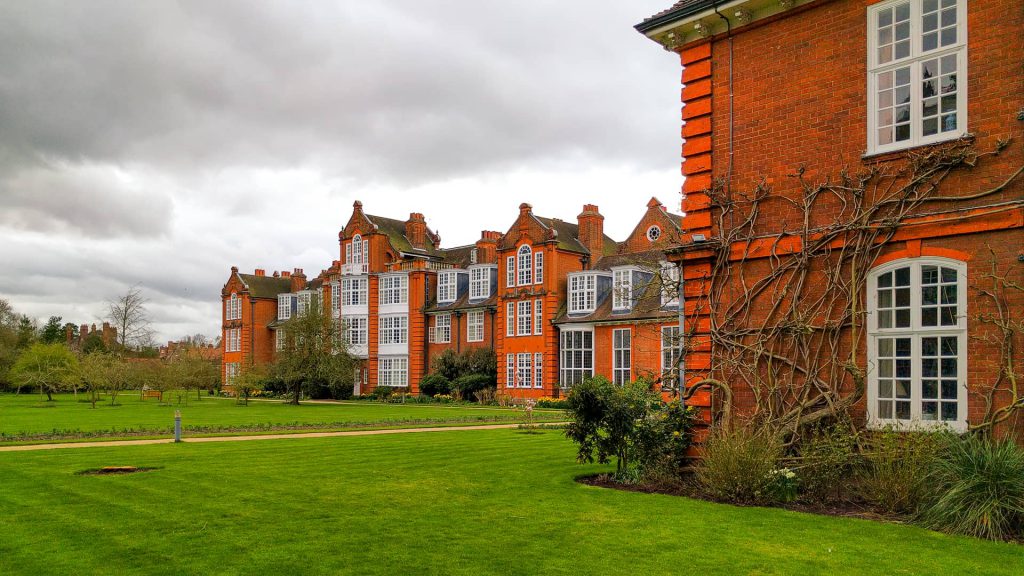 Primarily the work of architect Basil Champneys––who worked with the College for nearly forty years from 1874 to 1910––the core buildings that make up Newnham include some of the most cherished examples of Queen Anne-style design.
One of the first buildings completed by Champneys in 1875 was Old Hall which served as the primary residence of Newnham's first principal, Anne Jemima Clough. The building––with its remarkable and stately red-bricked façade––was quickly outgrown and eventually joined by North Hall, now known as Sidgwick Hall.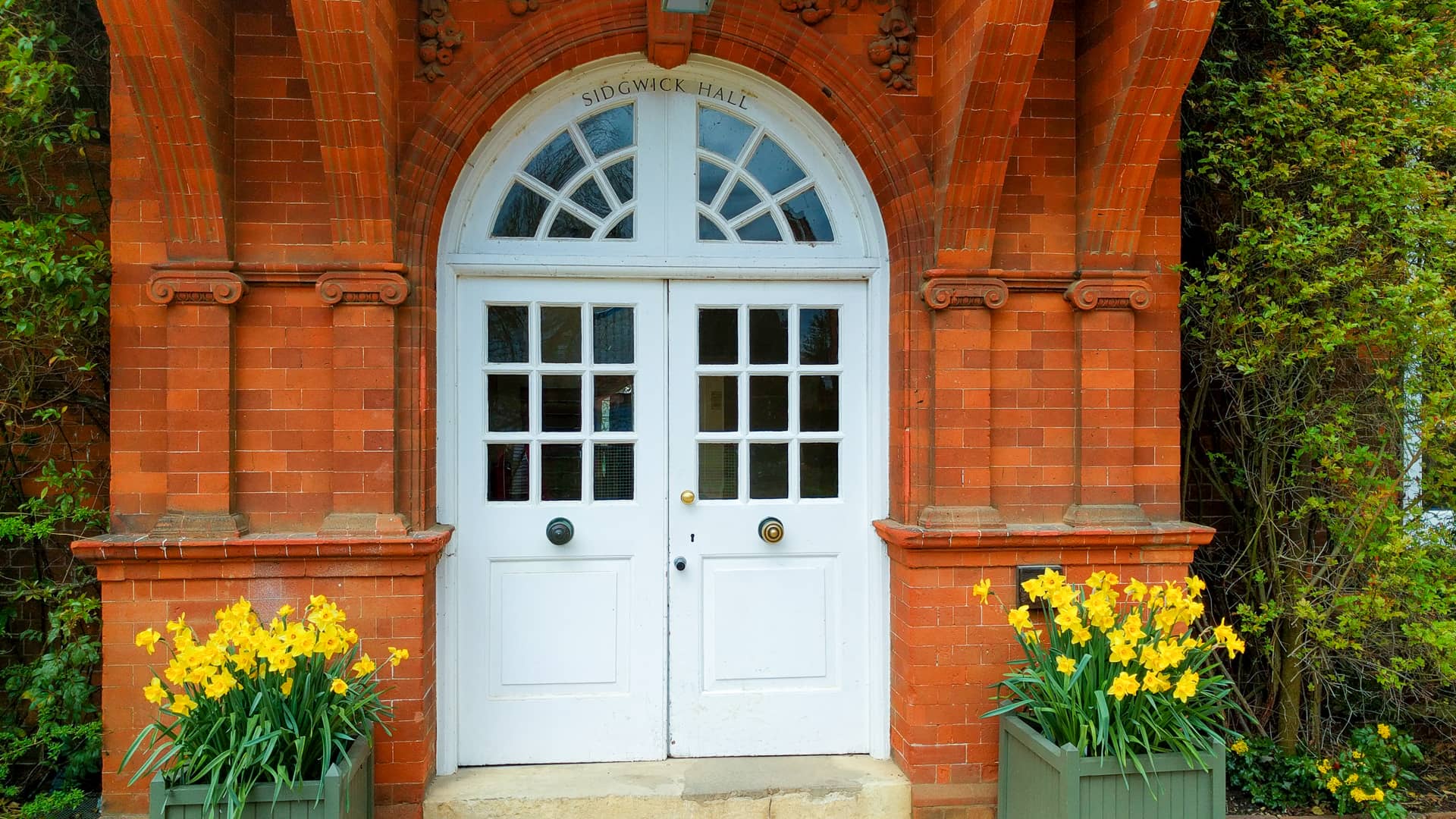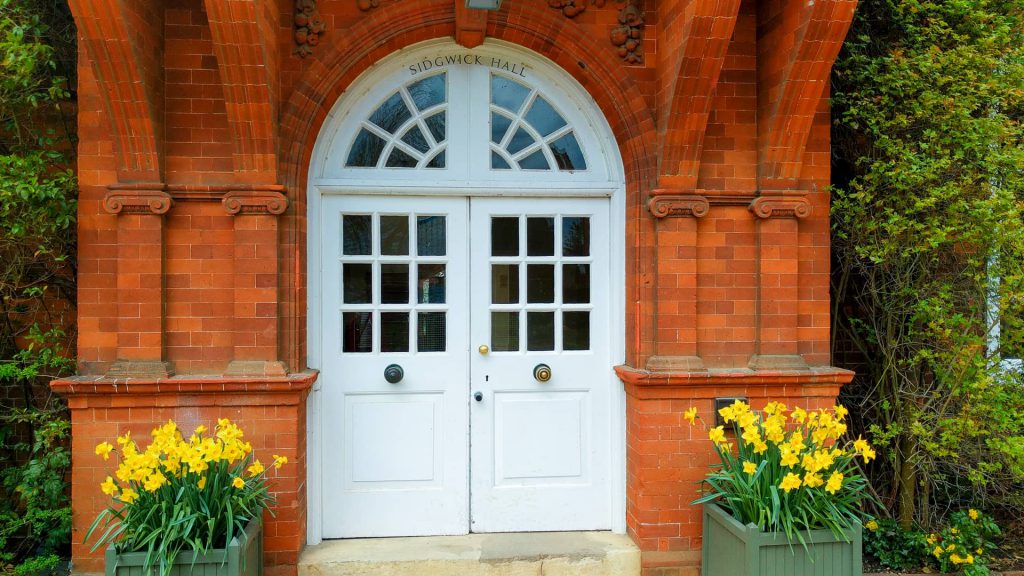 Built in 1880, Sidgwick was originally divided from the rest of the College by Newnham Lane, which was a continuation of Newnham Walk through to Grange Road. The laneway has since been closed and the division lifted, making Sidgwick Hall a prominent campus sight.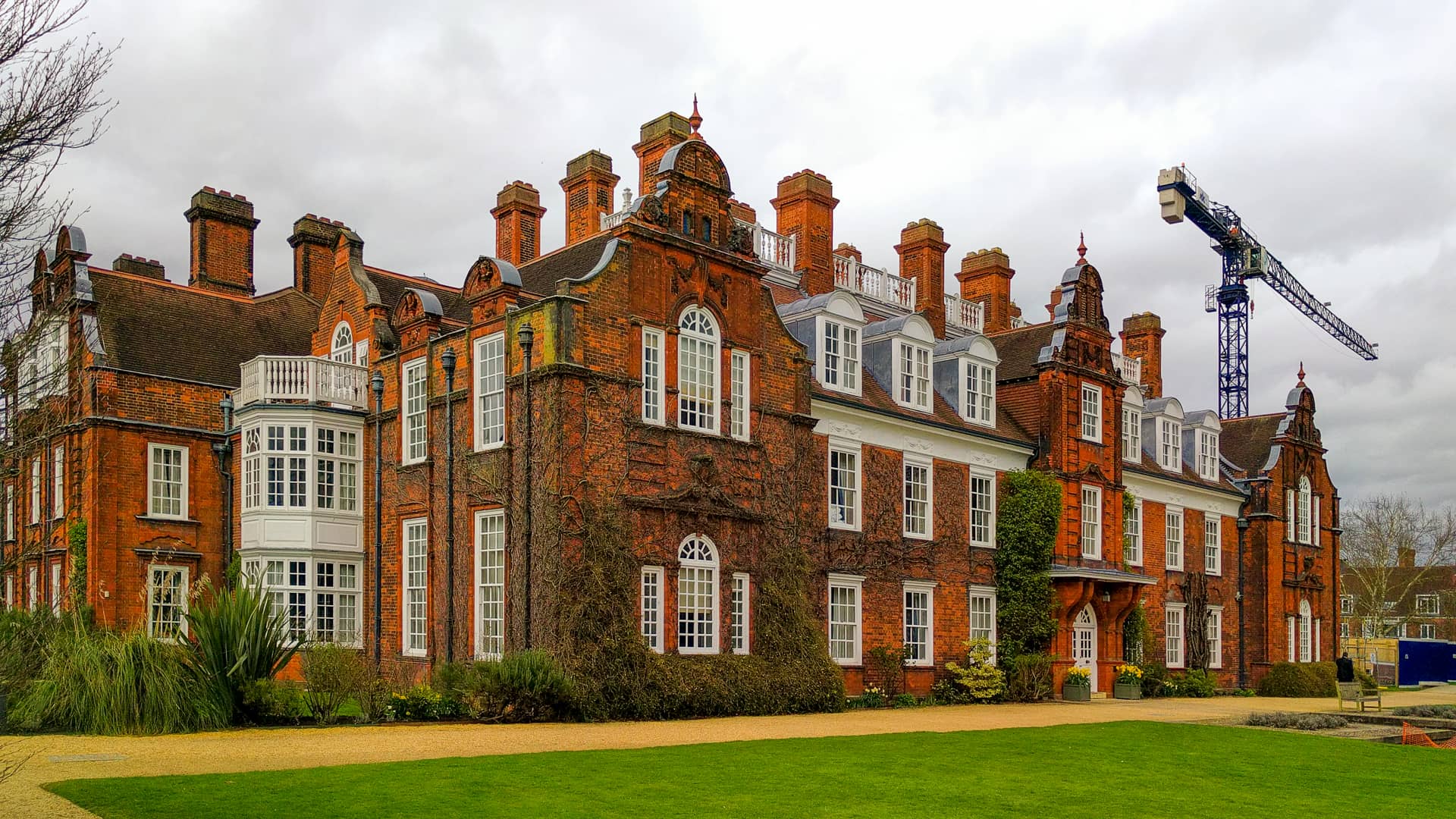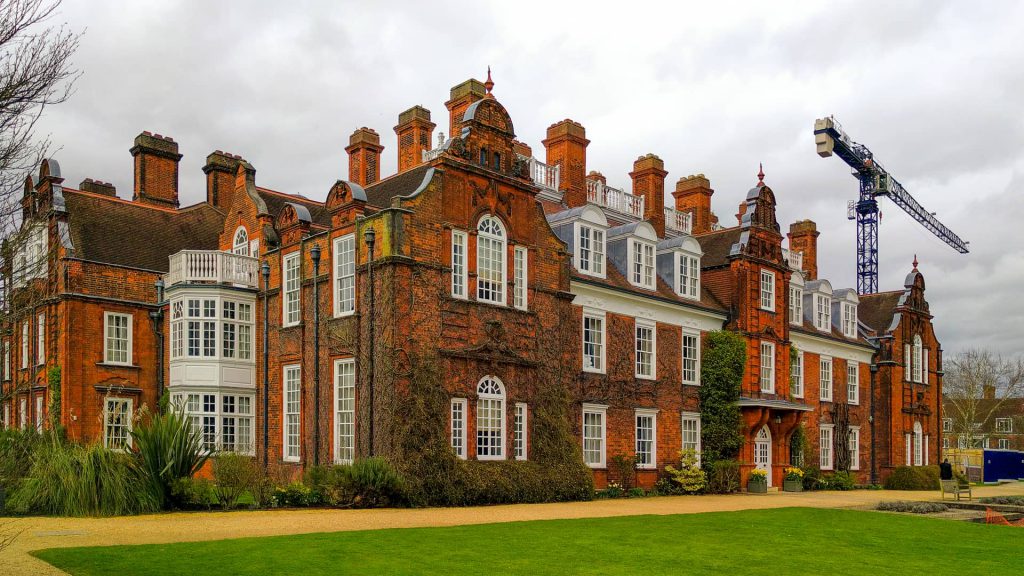 Comparatively, Champneys' final building, Peile Hall, completed in 1910, continues the architectural red-bricked tradition. At the time of its completion, Peile Hall was commemorated to Annette and John Peile, the latter of which served as Newnham President from 1890 – 1909.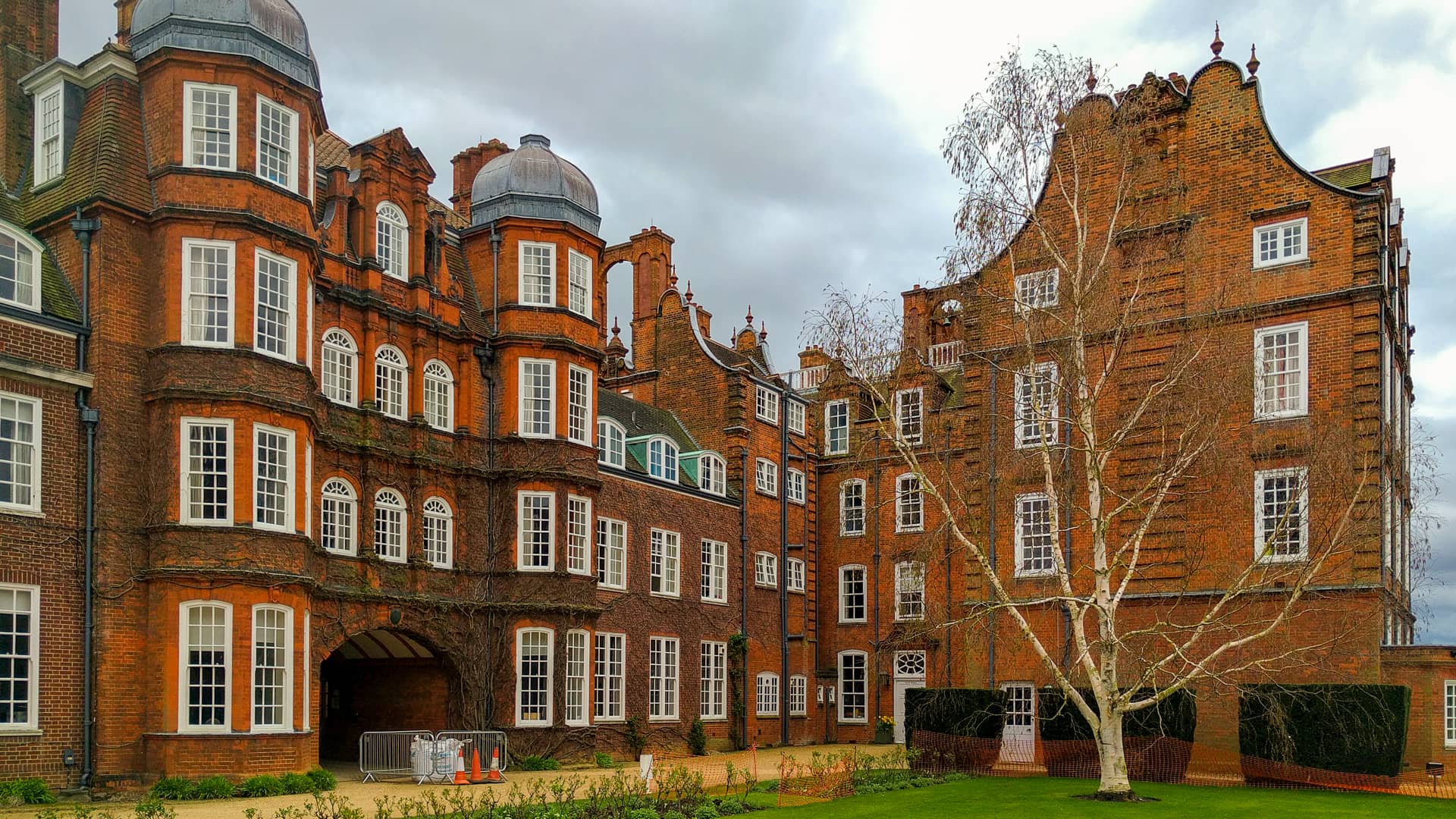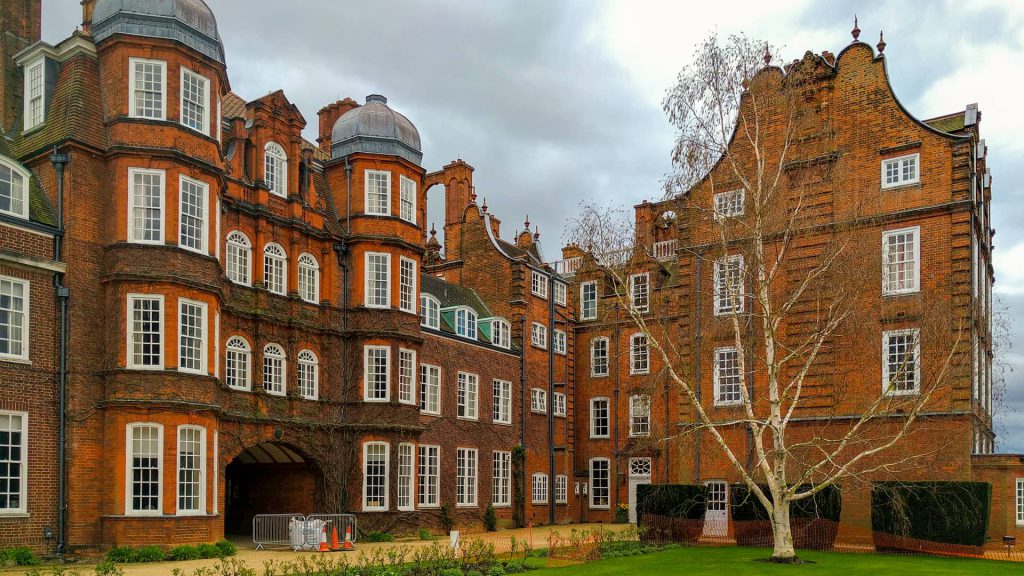 The former, Mrs Peile, was instrumental in organizing the correspondence classes which helped many women who were unable to physically attend Cambridge learn in absentia.
The newest addition to the campus, the expansive Dorothy Garrod Building, opened in 2018, provides a new face and entrance to the College along Sidgwick Avenue (having replaced The Strachey Building and the former Porters' Lodge).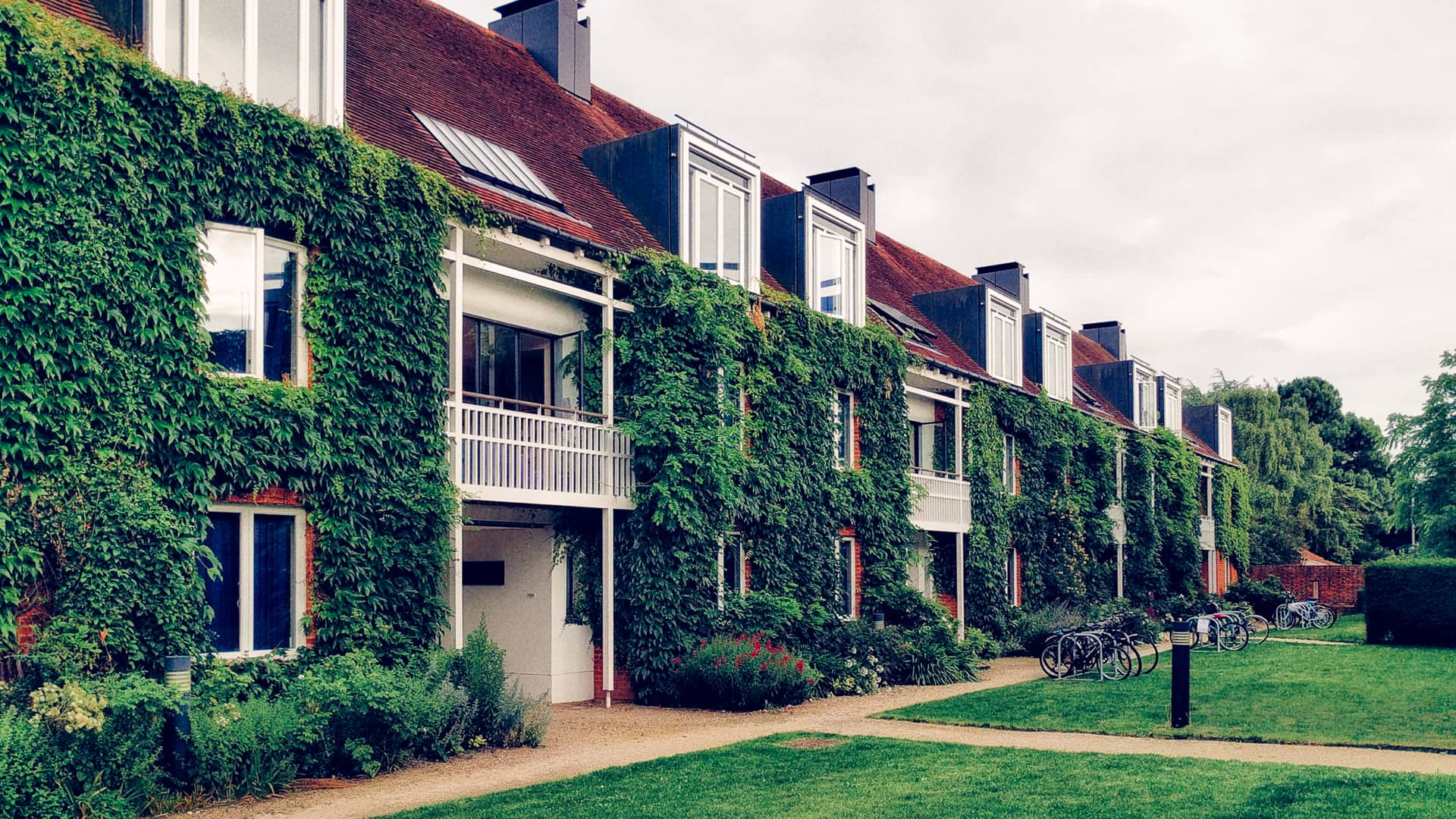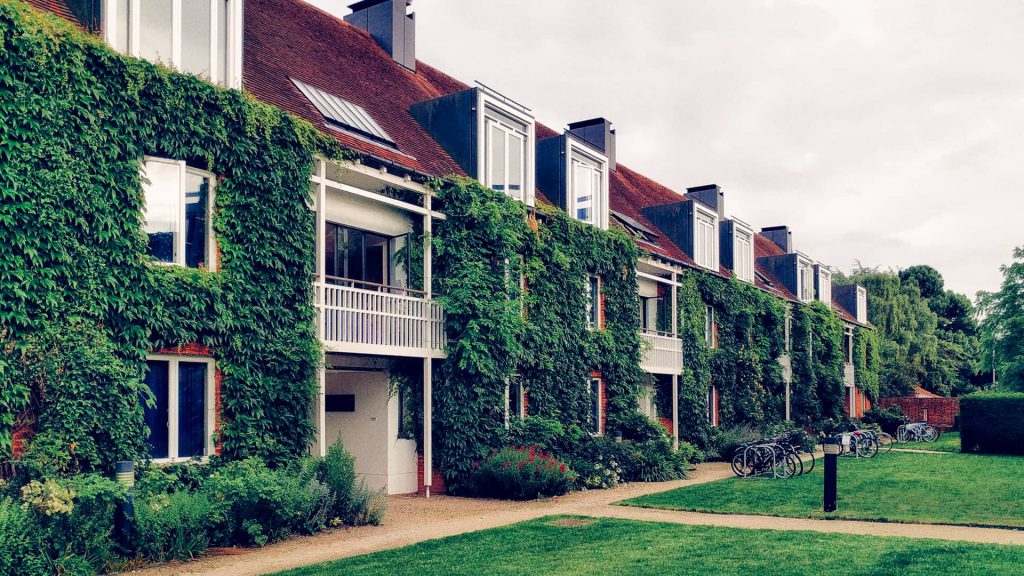 A bright and airy multi-purpose space that combines teaching, conference, research and social areas, not to mention impressive accommodation on the upper floors, this campus staple also features a lush rooftop garden for students.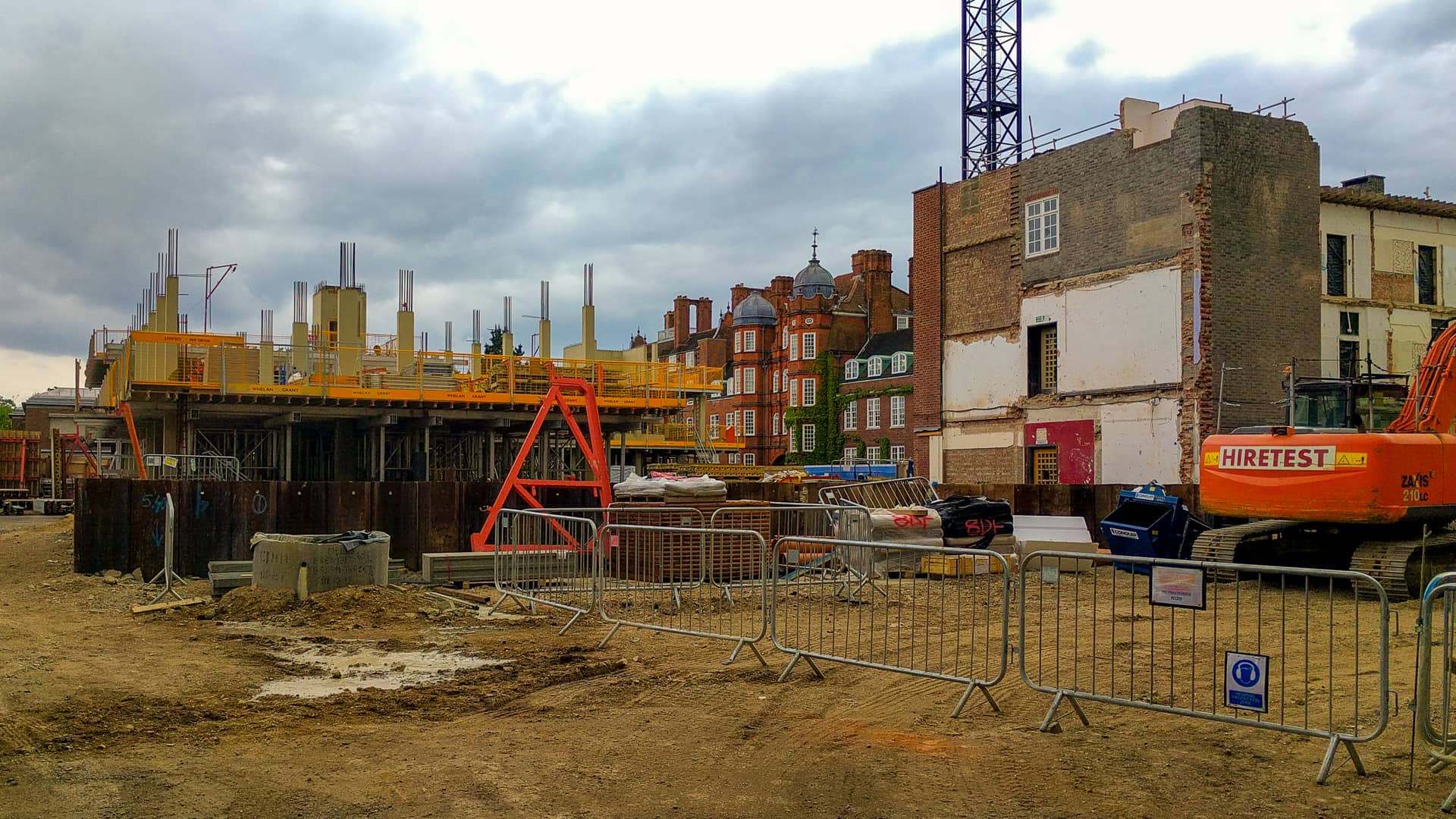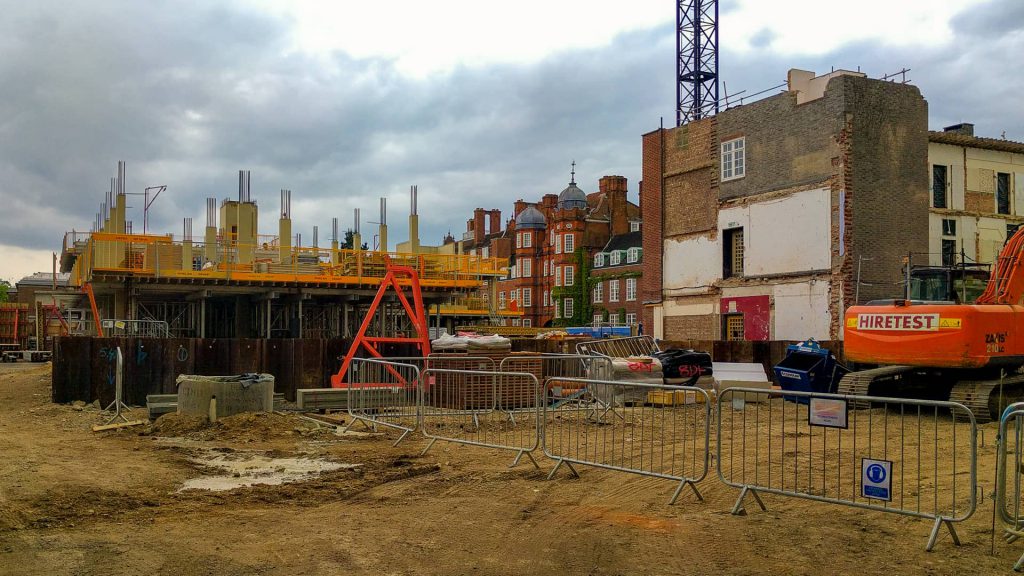 In addition to a formal hall, Newnham also features a popular modern buttery in which students can relax and take meals. As Newnham is a non-denominational college, it does not have its own chapel.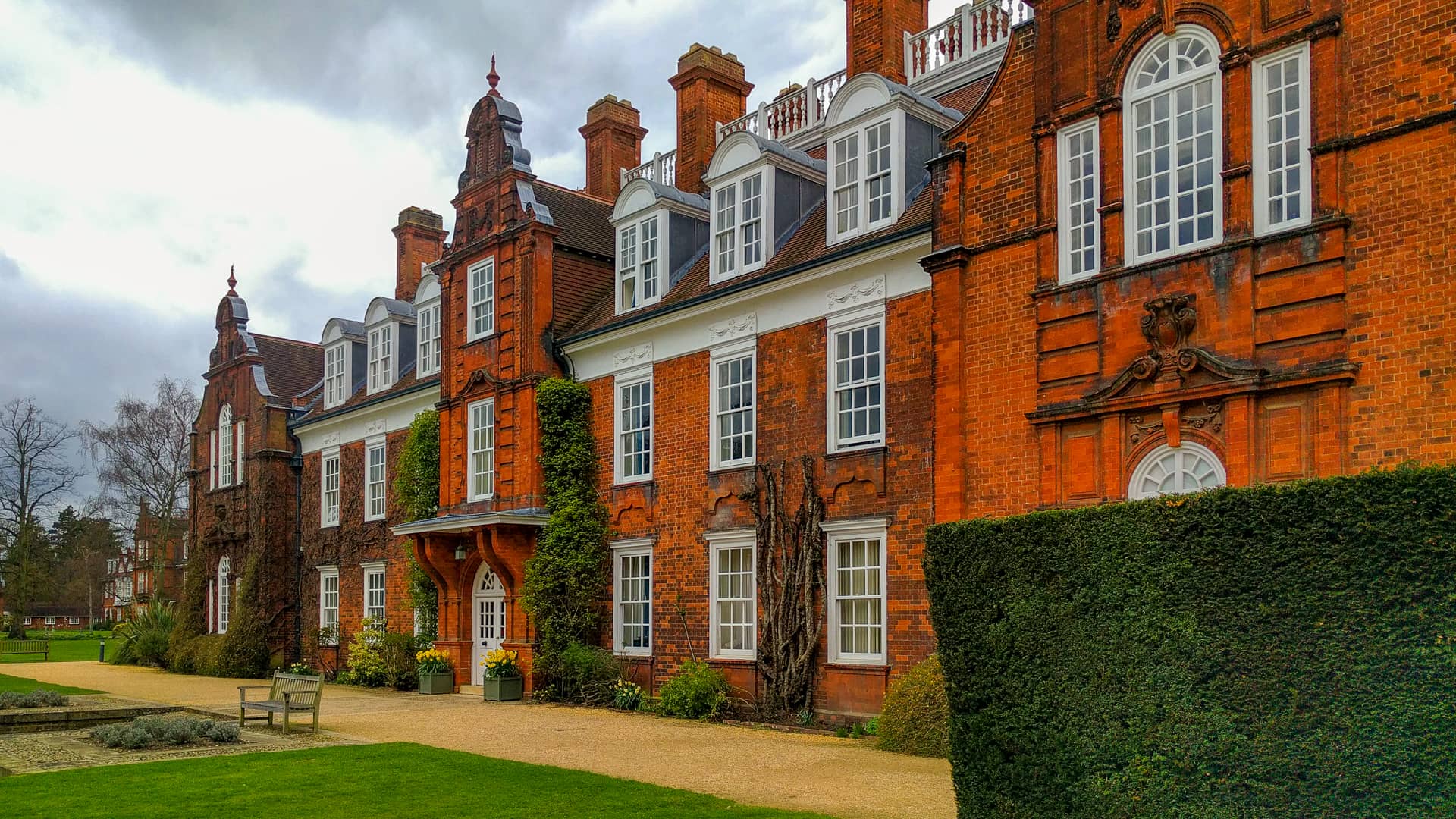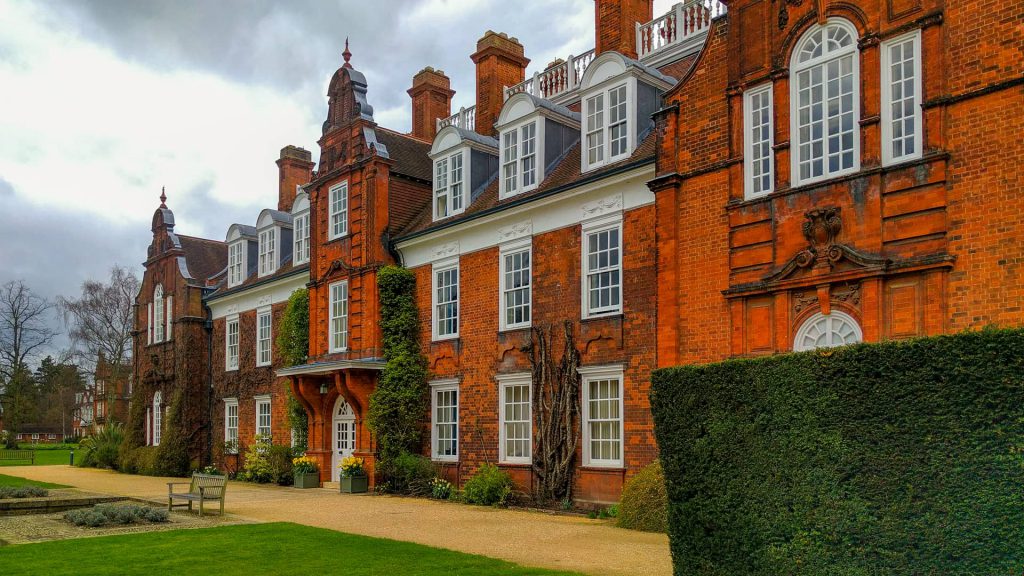 Newnham College Library is one of the best-stocked undergraduate college libraries in Cambridge, with a collection of 100,000 volumes––including about 6,000 rare books. Divided into two sections, this depository consists of Champneys original Victorian Yates Thompson library and its award-winning, ultra-modern Horner Markwick extension.
Artwork
Like many of the colleges at Cambridge University, fine art plays a pivotal role in contributing to the charm and warmth of many of the buildings' resplendent interiors.
Newnham's distinguished art collection, which includes some of the masterly artworks of Rembrandt and Turner, is located throughout the College and gardens––many pieces of which are displayed in public spaces and meeting rooms (including sculpture work found throughout the outdoor gardens), while others feature prominently in the College Hall, the Buttery and the Dorothy Garrod Building––which, in fact, houses a dedicated Exhibition Corridor that holds rotating displays of both the College's collection and various works on loan.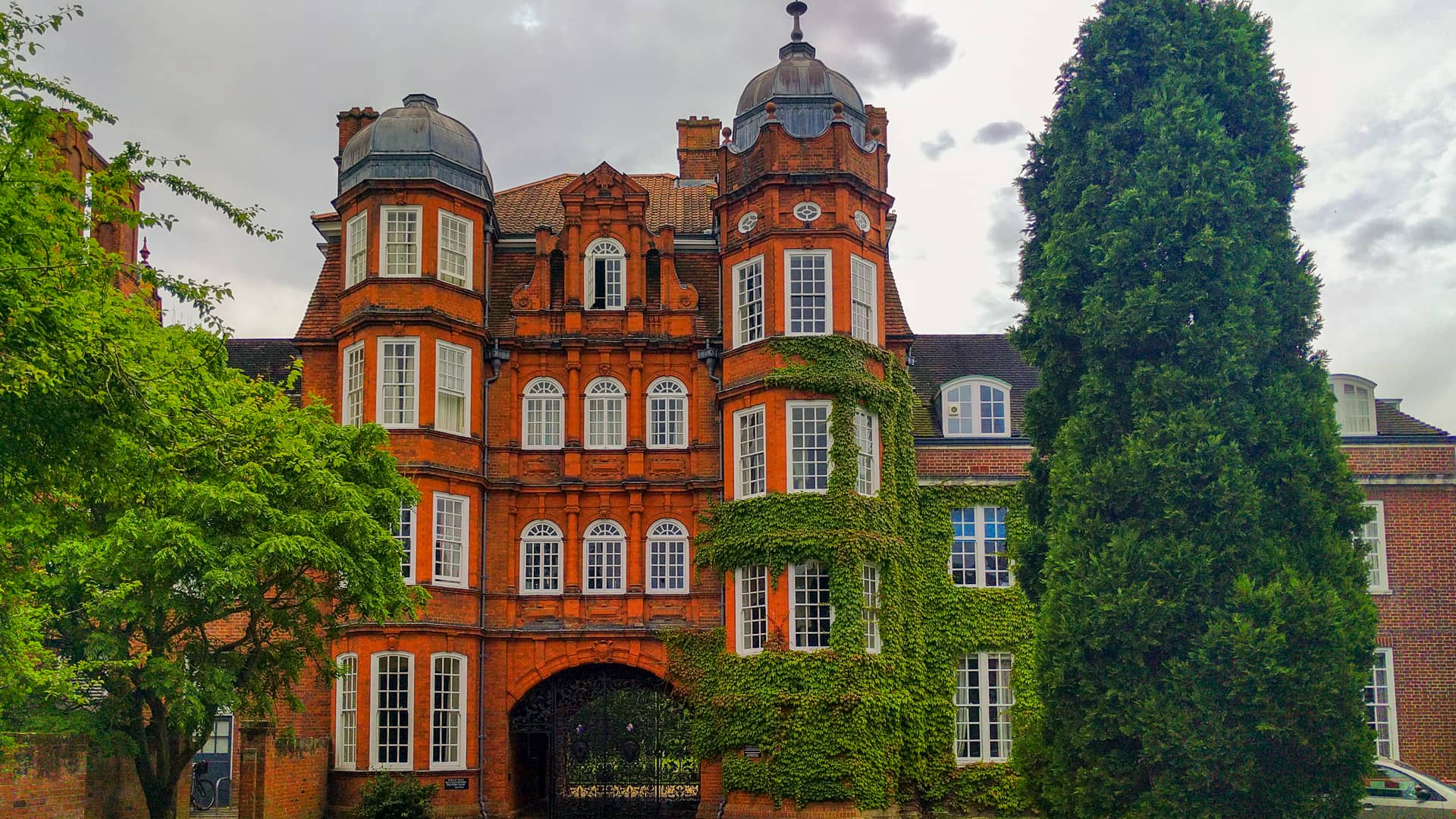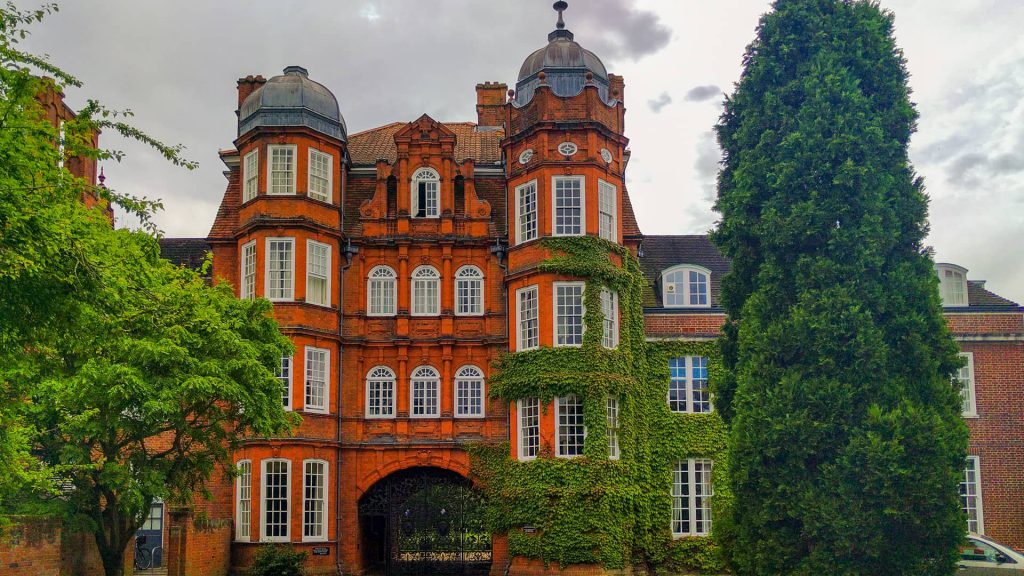 Sport at Newnham
The great tradition of competitive sports is alive and well at Newnham. In fact, students regularly receive between 20 and 35 Blues (awards given to those who represent the University in higher-level competitions) each year, in squads ranging from athletics to water polo. Newnham also has its own sports teams in tennis, squash, lacrosse, basketball, football, badminton athletics and running––most of which compete in the inter-collegiate competitions (known as Cuppers), in addition to the college leagues.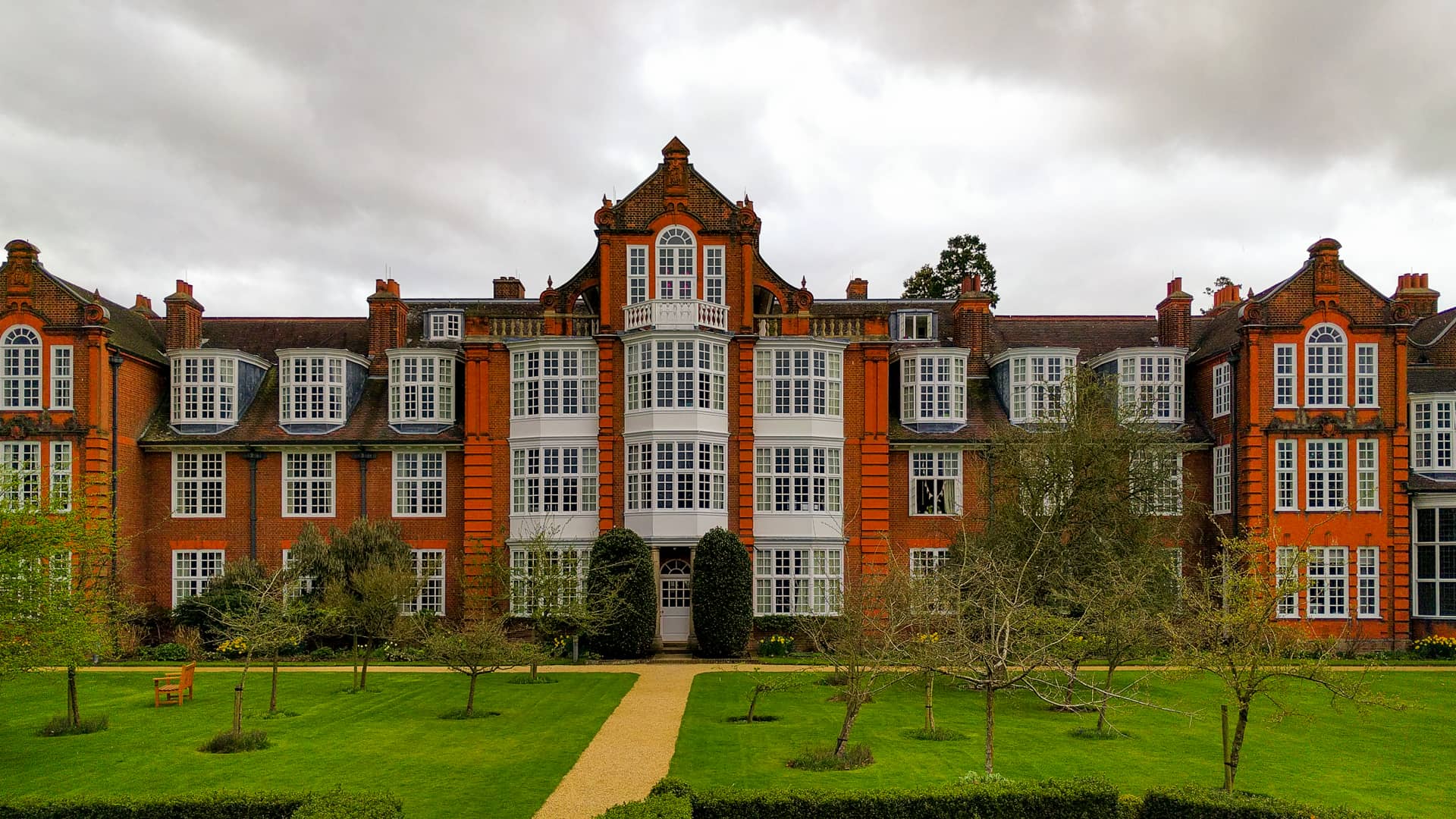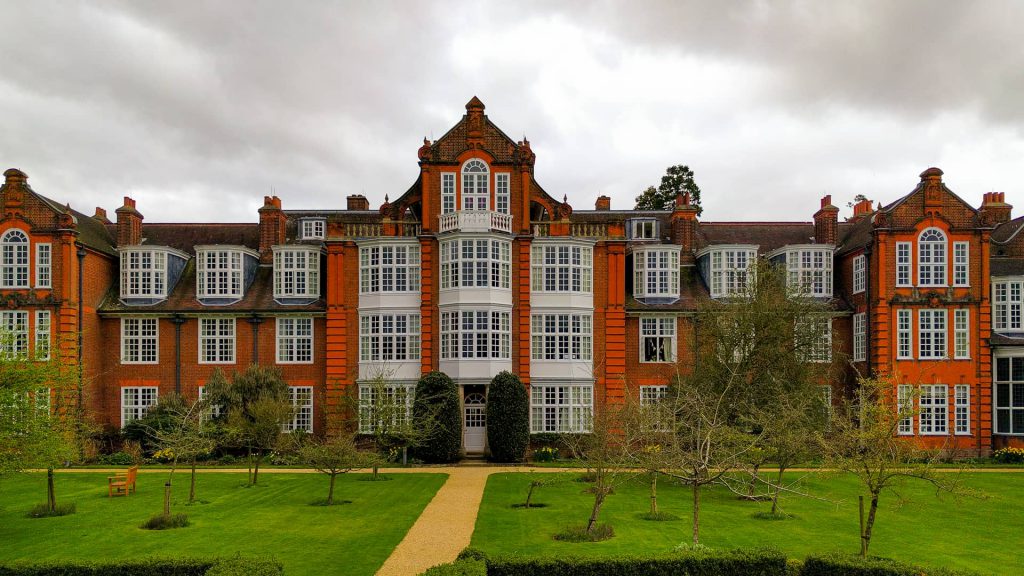 In addition to providing many academic firsts for women, Newnham College is also responsible for starting women's rowing at Cambridge University. In the first few years in which women competed (starting in 1927), Newnham represented the University as a whole. And while all Cambridge colleges now feature female crews, Newnham remains proud of its esteemed rowing tradition, as well as its ability to produce Blues-level rowers––one of whom happens to be Olympic gold medallist Anna Watkins.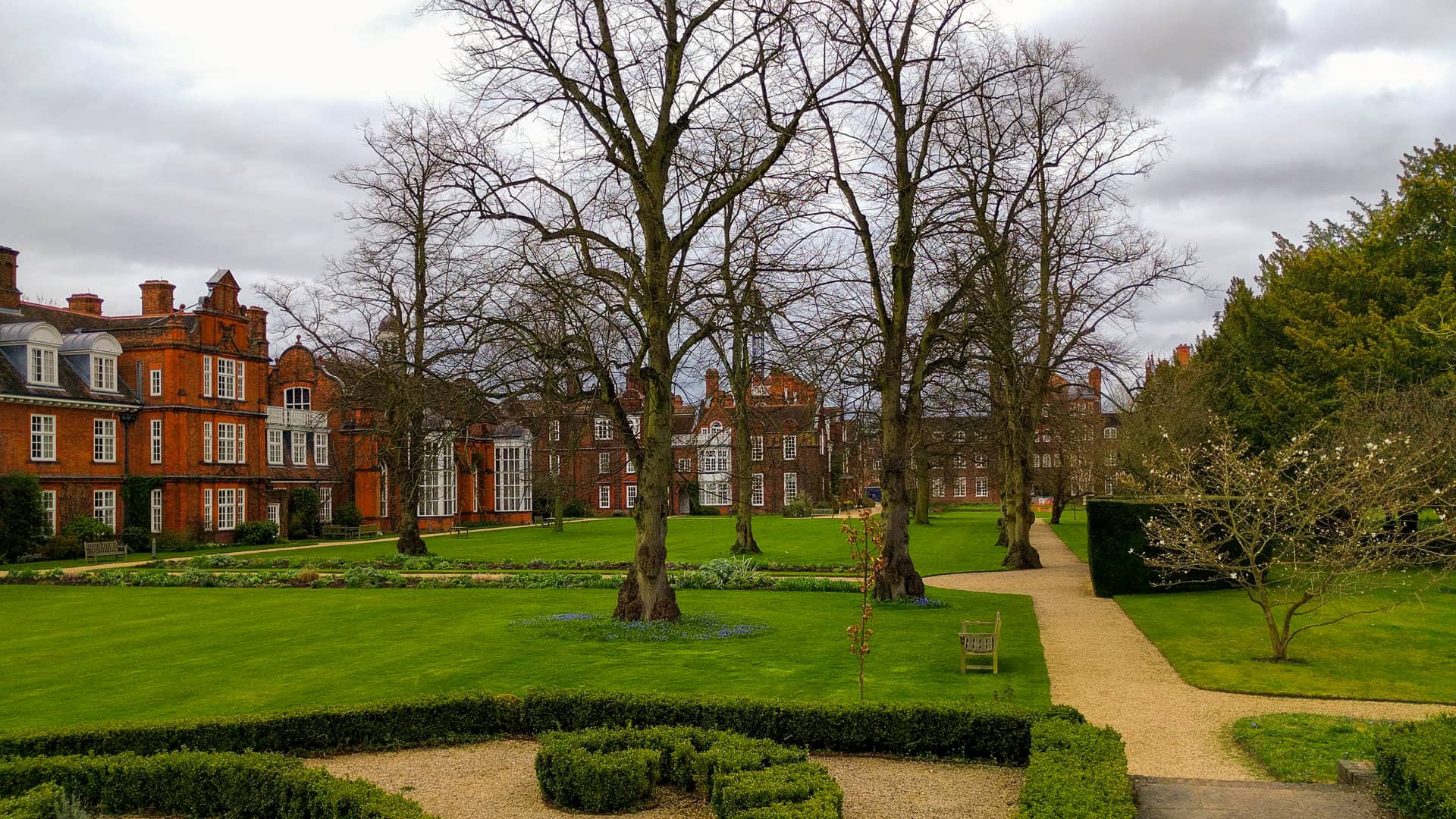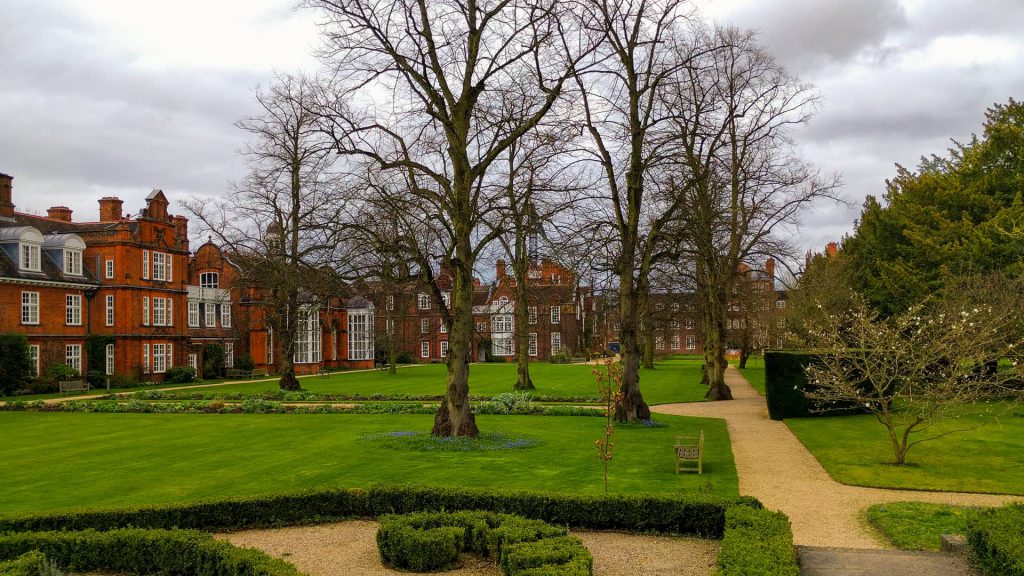 Newnham is also one of the few colleges to offer on-site sports fields––including netball and tennis courts––not to mention a fully-equipped gym space. Weekly exercise classes during term-time are also on offer, including aerobics, yoga, Pilates and Zumba (according to demand).
Notable Alumnae
Notable alumnae of Newnham College include some of the most influential and highly regarded women from the fields of medicine, mathematics, entertainment, literature and politics. Some of Newnham's more famous names, including Honorary Fellows, include:
Emma Thompson, DBE (Academy Award-winning actor, writer)
Jane Goodall, DBE (Primatologist, Anthropologist)
Sylvia Plath (Pulitzer Prize-winning poet, diarist)
Iris Murdoch, DBE (Booker Prize-winning writer, philosopher)
Alison Richard, DBE (Vice-Chancellor of Cambridge)
Suzy Menkes, OBE (journalist; editor, Vogue International Magazine)
Germaine Greer (writer; feminist icon)
Patricia Hodgson, DBE (broadcaster; former BBC Trust member)
Dorothy Hodgkin (chemist; Nobel Prize laureate)
Margaret Drabble, DBE (novelist; biographer)
Antonia Byatt, DBE (Booker Prize-winning novelist; poet)
Clare Balding (journalist; television sports presenter)
Mary Beard, DBE (classicist; television presenter)
Diane Abbot (Member of Parliament)
Ali Smith, CBE (novelist)
Miriam Margolyes (BAFTA-winning actor; comedienne)
Margaret Blackwood, DBE (Australian botanist)
Dorothy Garrod, CBE (archaeologist; Professor of Archaeology at Cambridge)
Kamala Sohonie (biochemist; first Indian woman to receive a PhD in a scientific field
Notably, Newnham College was featured (under the fictitious name, "Fernham") in Virginia Woolf's work, A Room of One's Own.
Sister College
Newnham College's sister college is Lady Margaret Hall, Oxford, which was the first Oxford University college to admit women students, in 1879.